POST-DOC POSITION at Grenoble INP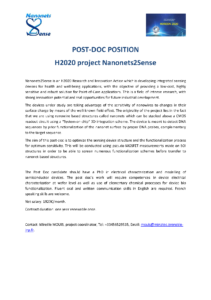 POST-DOC POSITION
The aim of this post-doc is to optimize the sensing device structure and the functionalization process for optimum sensitivity. This will be conducted using pseudo MOSFET measurements made on SOI structures in order to be able to screen numerous functionalization schemes before transfer to nanonet-based structures.
Full Professor Position at Technical University of Munich (TUM)
The responsibilities include research and teaching as well as the promotion of early-career scientists. We seek to appoint an expert in the research area of Nano and Quantum Sensor Systems with a focus on their design and application in medicine, metrology, and communication. The teaching load includes courses in the university's bachelor and master programs.