VTT Technical Research Centre of Finland Ltd
Equipment / Facilities
Processing platform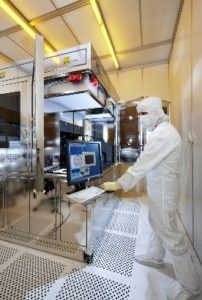 2600 m2 class ISO4-ISO6 cleanroom (national research infrastructure status) for active devices, RF-MEMS, photonics, superconducting devices and nanofabrication. Wafer size 150 and 200 mm.
Modelling platform
Silvaco process and device modelling tools, RF modelling tools: Keysight ADS, AWR MWO, HFSS, Sonnet, IE3D
Characterization platform
Characterization tools for structural (SEM, AFM, X-ray), electrical (10 mK-RT), including Millimetre wave laboratory of Finland (MilliLab, an ESA external laboratory on millimetre wave technology, frequencies up to 3 THz), and optical properties. 
Expertise
Main Expertises
Beyond CMOS
Neuromorphic Computing
x
Phonon engineering
x
Small slope switches-NW/TFET/NEMS
x
Alternative materials-2D layers
x
Novel devices for ultra-low power
1D
x
Quantum Technologies & Very low temperature electronics
More Moore
Logic Nanodevices& circuits

Nano CMOS and FDSOI circuits, sub- and near threshold ULP circuits, neural processing units

Memories
Very low power devices
x
High temperature electronics
x
More than Moore
micro-nano-bio Sensors & Systems

MEMS, bolometers, superconducting sensors, biosensors

Energy Harvesting

Thermoelectrics, work function harvesting, supercapacitors

RF devices & circuits

Active and passive components and circuits in RF, mm-wave and THz range, antennas

Photonics devices
Power devices
x
Flexible electronics

Printed intelligence, roll-to-roll fabrication

Smart systems& Systems design
Smart systems

Wireless and zero power systems, multi-modal systems

Systems design

Sensor systems and networks, RF and communication systems
Research interests
Research interests
Beyond CMOS
Neuromorphic Computing
x
Phonon engineering

Nanophononics and optomechanics for new information tokens.

Small slope switches-NW/TFET/NEMS
x
Alternative materials-2D layers
x
Novel devices for ultra-low power
x
1D
x
Quantum Technologies & Very low temperature electronics

quantum technologies based on superconductors.

More Moore
Logic Nanodevices& circuits

Neural signal and data processing circuits

Memories
Very low power devices
x
High temperature electronics
x
More than Moore
micro-nano-bio Sensors & Systems

Hyperspectral cameras, extremely sensitive bolometers, medical and diagnostics.

Energy Harvesting

Thermal sensors, integrated harvesting systems on-chip.

RF devices & circuits

5G and beyond, low power wireless, space applications

Photonics devices

Information processing, routing, optomechanics

Power devices
x
Flexible electronics

Embedded solutions, light emission

Smart systems& Systems design
Smart systems

Integration of optical, electrical, biological and molecular sensing

Systems design

Energy optimized information transmission and processing, zero/low power and autonomous systems